This quantity of N2O Cream Chargers 240 Pack is the maximum amount available to purchase for Non-Commercial use. Purchasing over 240 is restricted to Trade Only, this includes purchasing multiple quantities of 240 packs. Please be mindful of this when purchasing as all orders placed are subject to our T&Cs. For more information on restrictions of sale of N2O Cream Chargers, please see our terms and conditions and safety information page regarding the restrictions of sale of N2O Cream Chargers.
Get the perfect results with iSi 240 Cream Chargers Pack.
Benefits of the high-quality iSi Cream Chargers 240 pack:
Each iSi Cream Charger contains 8.4g of pure N2O.
All iSi Cream Chargers are made of high-quality, recyclable steel.
They are individually weighed electronically and have a fill warranty.
iSi Cream Chargers are silver.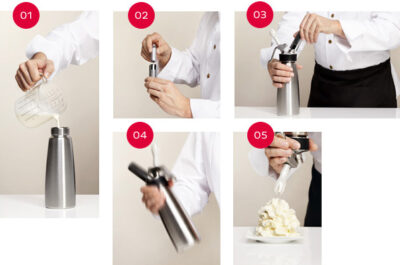 Cream Chargers 240 Details:
  For use in all standard cream whippers - although not compatible with Kisag whippers.
  Filled with certified pure N2O. With no oily residues.
  Lacquered to prevent kitchen moisture from causing rust on the charger.
  Electronically weighed to ensure guaranteed minimum of 8grams of Nitrous Oxide.
  Will turn 1/2 litre of whipping cream into up to 1.5litres of whipped cream! Far greater a volume     than mechanical whipping.
Cartridge Data:
  Cartridge contains 7.5g (10 Cubic cms) of pure N2O at approx 60bar/900psi.
  Cartridge Volume/Water capacity: 10ml.
  Filling Pressure: 8MPa
  Non-Threaded.
  Cartridge total weight: 28gm.
  Size: 66mm x 17.8mm.
OVER 18's ONLY:  This product is not for sale to under 18's.
Resellers please ensure your customers are over 18. If you are a reseller, you must hold a verified wholesale account with us.
 MISUSE: We will refuse to sell Nitrous Oxide (N2O) Cream Charger cartridges to you if we suspect you intend to misuse them or are under 18. For more information on our due diligence, please see our 'Misuse Of N2O' page. 
 Manufacturers Safety Information: Pressurised gases require proper handling due to the nature of the products, please ensure that you read and understand the manufacturers safety information before placing an order for Cream Chargers. Our Cream Charger Safety Information, and Mosa Manufacturers instructions can be found here.
Compatible Product Safety Information: For all compatible devices and products safety information, please ensure that you read the information on our Product Safety Information page linked here.